We are going to illustrate empirically of the two-factor ANOVA works, assuming that we have the following problem: A health centre wants to analyze the potential influence of age and sex on the use of a medicine. A sample survey is conducted for this purpose and users were grouped by age into four categories (children, teenagers, adults, seniors) and gender. A sample of 24 individuals was drawn, independently selecting 3 individuals by gender and age group. The response variable is the monthly consumption of this medicine (in €), and we have the followng dataset: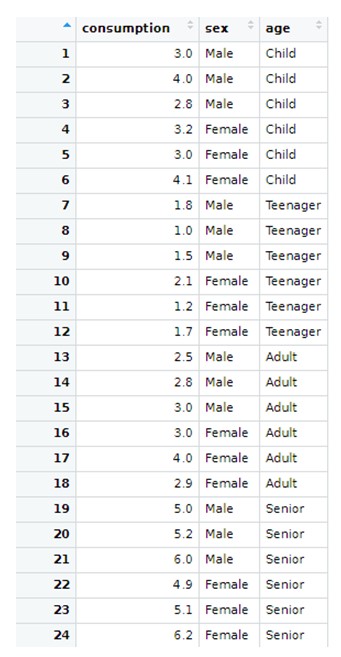 Again, the sample data shown above (contained in a R file called "medicine), can be loaded in Rstudio by going here:

Now, we are applying a two-factor (age and gender) ANOVA with R, which requires installing and loading specific packages:
In order to apply ANOVA, we first test if the assumptions required actually hold, by running normality and equal-variances test. Normality tests (across all the age groups and the two genders) are conducted by running:
We first indicate the dataset that is considered ("Medicine"), then group the data by the levels of the tow factors considered in our anlaysis ("age" and "sex") and finally runs a Spahiro normality test on variable "consumption" across all the groups:
Note that now, when referring to the levels of the two factors, we need to consider all pairs of possible categories between them. Agian we find high p-values for this normality test in all the cases, which allow us to work under the required assumption of normality. Moreover, homogenous variances are required as well, and in this case this assumption is tested by conducting a Levene test as:
The p-value found indicates that we do not have empirical evidence in the sample against this assumption either:
Since the assumptions required to conduct a two-factor ANOVA process seem to hold, we do it by running the following code lines:
The output of the analysis comes in the form of the following multiple ANOVA table:
The results of this two-factor ANOVA provides very useful information that allows to give a data-based response to our research question. The tests conducted indicates that the mean values of the consumption of the medicine are significantly different across the four levels of the factor "age" (note that is the only case when we have a low p-value, which leds to reject the null hypothesis of equal means). However, neither we find significant differences in the mean consumption by gender or across the interactions between age-group and gender.